3D laser scanning is indispensable for pre-existing architecture or historical preservation. It is the most cost efficient and accurate method of developing as-built conditions of existing structures and surfaces. Using laser scanning for historic documentation offers several advantages. Many older buildings have sections that are no longer structurally sound, posing a challenge to the traditional ways of measurement, so an unobtrusive manner for acquiring data is preferred.
4Visualizations offers a broad spectrum of services to a diverse range of clients including conservation architects, historians, design professionals, conservators, and environmental and cultural specialists.
Our 3D scanners with point accuracy 0,1 mm can quickly and accurately capture complex shapes , texture and tricky surfaces.
We deploy mid-range and short-range scanners, depending on the complexity of the object, to ensure a high-resolution 3D recording even when dealing with intricate facade sculptures or ornaments.
For projects requiring a remodel or addition to an existing space, the point cloud data acquired in the scanning process provides various environments to develop, refine, and effectively communicate emerging design ideas.
Deliverables: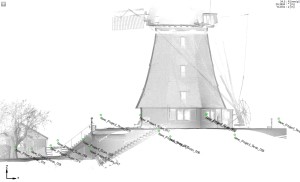 Site Plans
Floor plans
Sections
Elevations